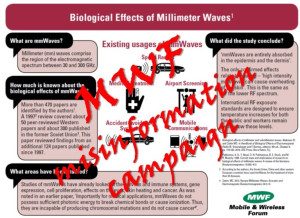 Re-posted from 'Between A Rock and a Hard Place" – A Science Blog on Radiation and Health by Dariusz Leszczynski
5G misinformation campaign by the Mobile & Wireless Forum (MWF)
In August 2019, the  Mobile & Wireless Forum (MWF), formerly known as MMF,  published a graphic illustration of what is known about potential effects of millimeter waves on human health.
Here, the link to the original MWF pdf: MWF on mmWaves 2019_08_13
The MWF, based on this graphic illustration, aims to assure that there will be no health problems whatsoever following the deployment of the 5G wireless networks and activation of the millimeter wave using technology.
However, there are two major problems with the health safety assurances provided by the MWF.
Read more at:
5G misinformation campaign by the Mobile & Wireless Forum (MWF)