In the US, satellite activity is regulated by the Federal Communications Commission.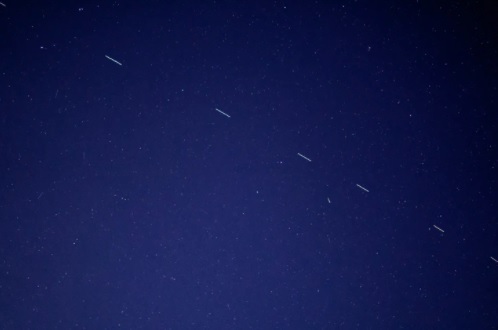 28 August 2021
There are no binding international laws or regulations in place to protect the night sky.
Does the FCC's lack of review of commercial mega constellations satellite projects violate the National Environmental Policy Act [NEPA)?
The FCC refused to find that SpaceX's Major Modification Application "may have" a significant environmental impact:
Viasat sued the Federal Communications Commission in May and asked judges for a stay that would halt SpaceX's ongoing launches of low Earth orbit (LEO) satellites that power Starlink Internet service.
The US Court of Appeals for the District of Columbia Circuit ruled that "Viasat has not satisfied the stringent requirements for a stay pending court review." The judges did grant a motion to expedite the appeal, however, so the case should move faster than normal (Final Briefs October 26, 2021).
Filed: 06/14/2021 UNITED STATES COURT OF APPEALS FOR THE DISTRICT OF COLUMBIA CIRCUIT RESPONSE OF THE BALANCE GROUP (Appellant in No. 21-1128) IN SUPPORT OF MOTION TO STAY PENDING JUDICIAL REVIEW
Excerpts:
With regard to identified potential effects on Earth's atmosphere from satellite launches and re-entries, the FCC perfunctorily dismissed Viasat's detailed petition allegations as "insufficient" to determine that additional environmental consideration is necessary under its rules, or that granting SpaceX's modification application may have a significant environmental impact on the atmosphere or ozone layer. It rejected Viasat's identification of "unknowns about other complex chemical compounds" as "too vague."
Though it conceded Viasat is correct in noting that 10 to 40 percent of a satellite's mass as a general matter does not burn up on re-entry and may reach Earth's surface, the FCC accepted at face value SpaceX's statement that its satellites are different. FCC credited SpaceX's self-serving claim that it has designed its satellites to be "fully demisable upon reentry," and that "the calculated risk of human casualty from materials reaching the Earth is roughly zero." [A057]
As to potential impacts on the night sky and astronomy identified by both The Balance Group and Viasat, the FCC credited SpaceX's vague assertions that "it has been working with astronomers and that its modification will in fact lessen the effect its constellation will have on the night sky," that it "has been taking measures to darken its satellites," making them "all but invisible" to the naked eye, and "has been working in close collaboration with the astronomy community." [A057-59 (quoting SpaceX Opposition)].
The FCC rejected Viasat's detailed contentions regarding the potential impact of satellite collisions in space, finding that they "failed to set forth in detail reasons justifying or circumstances necessitating environmental consideration of these issues…."
"It must be remembered that the basic thrust of the agency's responsibilities under NEPA is to predict the environmental effects of a proposed action before the action is taken and those effects fully known." https://regmedia.co.uk/2021/06/16/resp_supporting_motion_to_stay.pdf
FCC's Categorical Exclusion
Since the 80s, satellite systems have had a baked in exemption from the National Environmental Policy Act (NEPA), excluding their businesses from environmental review. Federal agencies can circumvent NEPA if they are granted a "categorical exclusion" for some or all of their activities—usually by arguing that such activities do not impact the environment and thus do not require review. The FCC has had a sweeping categorical exclusion since 1986 across almost all of its activities—including its approval of space projects—despite other agencies involved in space—most notably NASA—being required to conduct NEPA reviews. Kevin Bell, staff counsel at Public Employees for Environmental Responsibility (PEER), a nonprofit organization that works with government whistle-blowers on environmental issues: "It is a policy that was designed for another time, before large scale space exploration."
In its reasoning for its categorical exclusion, the FCC states that its actions "have no significant effect on the quality of the human environment and are categorically excluded from environmental processing."
"The FCC however has never performed a study showing why commercial satellites deserved to be classified as categorically excluded from review "
"And the evidence shows that these satellites are having an environmental impact." https://www.scientificamerican.com/article/the-fccs-approval-of-spacexs-starlink-mega-constellation-may-have-been-unlawful/
VIASAT itself has been accused of attempting competitive harm to support a stay request. In the article "Keep Environmental Red Tape Out of Outer Space" the author points out that VIASAT itself did not perform an environmental assessment under NEPA for its own satellite constellation. The author believes that NEPA Does Not Apply Extraterrestrially. https://www.heritage.org/sites/default/files/2021-08/LM288.pdf
Environmental impact assessment (EIA) screening and scoping of extraterrestrial exploration and development projects
NASA takes the position that potential environmental impacts in outer space, including the Moon, are beyond the scope of NEPA [National Environmental Policy Act] analysis' (NASA 2008a). The legal frameworks of Belgium and France are exceptions as they require that EIA considers extraterrestrial impacts. Despite the weak and inconsistent legal situation, two areas of space environmental protection have been taken more seriously by the international community, including measures to control levels of man-made space debris and 'planetary protection'. These are covered internationally by the Inter-Agency Space Debris Coordination Committee's (IADC's) space debris mitigation guidelines (IADC 2007, 2014) and the Committee on Space Research's (COSPAR's) Planetary Protection Policy (COSPAR 2011).
Space debris is defined by the IADC as 'all man made objects including fragments and elements thereof, in Earth orbit or re-entering the atmosphere, that are non functional' (IADC 2007). These pose a risk to spacecraft due to the high relative speed at which they may be travelling. Given the amount of debris already in orbit and the fact that when pieces collide they can fragment and multiply, there is concern that the number of objects could expand exponentially through 'collisional cascading' and thus limit future space activities in some orbits (NASA 2016a).
Ref: Stephen Eric Mustow (2018) Environmental impact assessment (EIA) screening and scoping of extraterrestrial exploration and development projects, Impact Assessment and Project Appraisal, 36:6, 467-478, DOI: 10.1080/14615517.2018.1500092
Environmental Impact Assessment and space activities
Environmental Impact Assessment (EIA), the prior assessment of the possible effects of a proposed activity on the environment, is a common tool for environmental protection and management on Earth today. It was the first major step in the development of impact assessment procedures, which are probably the most obvious examples of an approach that integrates economic, social and environmental considerations. EIA is not a well-established tool in the international law of outer space, however. Despite the peculiarities in assessing the potential impacts of space activities, the premise of this paper is that also this field of human endeavor would benefit greatly from the adoption of EIA procedures and, moreover, such an approach is even becoming vital for the safe and rational conduct of these activities. This is particularly true inasmuch as any adverse environmental impacts of space activities are highly difficult to mitigate once they have materialized.
Ref: L.E. Viikari, Environmental Impact Assessment and space activities, Advances in Space Research, Volume 34, Issue 11, 2004, Pages 2363-2367, ISSN 0273-1177, https://www.sciencedirect.com/science/article/abs/pii/S0273117704003266
University of Edinburgh astronomy professor Andy Lawrence files amicus brief
Law360 (August 17, 2021, 7:13 PM EDT) — The Federal Communications Commission made a mistake when it gave SpaceX permission to launch thousands of broadband satellites from its Starlink fleet closer to Earth than originally planned without also ordering an environmental review, a group of astronomy professors told the D.C. Circuit.
The number of satellites in low Earth orbit is already making it difficult for astronomers to do their job, and the work is only going to get harder if the FCC continues to allow companies like Elon Musk-linked SpaceX to launch objects into the sky without considering the effect on the environment, the celestial experts argued.
University of Edinburgh astronomy professor Andy Lawrence filed the amicus brief Friday, bringing his two cents to the consolidated set of appeals before the D.C. Circuit, all challenging the FCC's decision to bless the Starlink launch in a lower orbit. The brief, according to Lawrence, was coordinated with several colleagues at various American institutions.
"Humans have interacted with the night sky for thousands of years," the brief said. Professor Lawrence is (and the other astronomers are) interested in this case because the commission's order underlying it has significant potential consequences for astronomy and humans' access to the sky.
Right now there are more than 4,500 active satellites in what Lawrence calls near-Earth orbital space, but within a decade the professor says that number could grow to 100,000. https://www.law360.com/articles/1412913/profs-tell-dc-circ-spacex-launches-need-enviro-review
SpaceX adding capabilities to Starlink internet satellites, plans to launch them with Starship
On August AUG 19 2021 SpaceX filed an amendment with the Federal Communications Commission that included descriptions of its plan, known as the Starlink "Gen2 System. "SpaceX has launched 1,740 Starlink satellites to date, with its first generation system beginning launches in November 2019. Gen2 is planned to have nearly 30,000 satellites in total.
SpaceX says the Gen2 Starlink satellites are heavier and "will be somewhat larger and generate more power than originally" designed.
https://www.cnbc.com/2021/08/19/spacex-starlink-satellite-internet-new-capabilities-starship-launch.html
Sounding the alarm:
(Emphasis added by EMFSA ) If governments and companies around the world do not take urgent action to work together to make space safer, they will one day face a catastrophic collision that knocks out one or more satellites key to their safety, economic well-being or both. Space is a global commons and a global resource. A global organization responsible for — and capable of — managing the flow of space traffic is long overdue. The world must cooperate to avoid a catastrophic space collision. Governments and companies urgently need to share data on the mounting volume of satellites and debris orbiting Earth. Nature 596, 163 (2021) doi: https://doi.org/10.1038/d41586-021-02167-5
We must consider the impact of satellite constellations, and related future initiatives, on the essential human right to dark skies and on cultural sky traditions across all peoples. We must also include all stakeholders for near-Earth space in the process of developing new policies for space treaties and planetary protection, the consequences of which will reach far beyond this century. Ref: Venkatesan, A., Lowenthal, J., Prem, P. et al. The impact of satellite constellations on space as an ancestral global commons. Nat Astron 4, 1043–1048 (2020). https://doi.org/10.1038/s41550-020-01238-3 https://www.nature.com/articles/s41550-020-01238-3