Article Source: https://www.advalvas.vu.nl/verhalen/ik-ben-aangesteld-om-het-gezonde-verstand-te-beledigen
(Auto- translated from Dutch)
James Lech is a scientific jack of all trades. He understands physics, medicine, biology and likes to study law. He developed a health program that will soon be tested by the police. And maybe there will be a Netflix series about Lech's work.
BY WELMOED VISSER, February 17, 2021
James Lech (36) conducts research into how people function optimally and they can put that to good use in the police force. "Police officers work under stressful conditions. Being fit is essential to do your job well. " The Buitenveldert police therefore want to participate in a pilot in which Lech's insights are tested.
Brain hemorrhage
Lech is an atypical PhD student: one and a half times the age of most PhD students and engaged in his own research, paid for by the South African and Dutch governments. He is formally assigned to the physics of life department, where he conducts research into the influence of light and magnetism on algae. He conducts his research into human functioning in collaboration with the Science, Business and Innovation (SBI) department and various other universities.
Lech comes from South Africa and previously worked there in the world of alternative energy. But when he had his second brain hemorrhage three years ago, he started to study health.
Cold sea water
"I lost my job and income. Half of my body didn't work. I couldn't even lift my kids. And there were gaps in my conversations. The neurologist said it would take at least nine months for me to be able to function normally again. " Lech was convinced that his recovery should be faster. He studied health and developed his own protocol.
Swimming in cold sea water is part of that. "We lived by the sea, I went swimming to catch mussels. We needed it for food because I had no income, " says Lech. It was winter in South Africa. The water temperature was around ten degrees.
Dopamine deficiency
In addition to exposure to cold, light plays an important role in Lech's therapy. Natural light on the red end of the spectrum, that is, not the light coming from daylight lamps and computers. Red light increases your dopamine levels, making you feel better, less stressed, sleep better and even score better on intelligence tests. The blue light in computer screens and daylight lamps actually causes a dopamine deficiency, says Lech. As a result, people become self-focused and stressed.
Blue light makes people self-focused and stressed
Lech goes so far as to think that some of the problems facing our society can be explained by the excessive dose of blue light from the screens we look at all day: "In society as a whole, people are more self-centered. and less on connection with each other and with the whole. You see it in science, for example, everyone does their own little piece and nobody has an overview anymore. "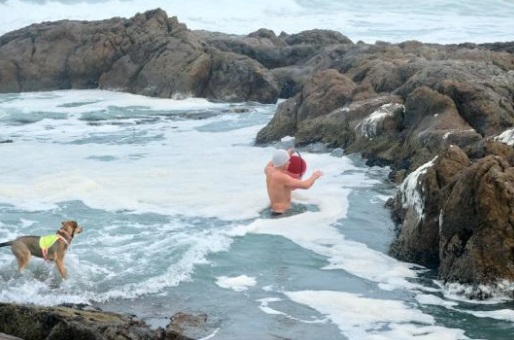 Edge of pseudoscience
His talent is that he sees through patterns between different fields of science, says Lech. He combines elements from chronobiology with his knowledge from physics and submolecular biology. "The steps in my program have been scientifically proven, sometimes decades ago, but never combined in this way."
Exposure to cold, for example, has played a role in Scandinavian and Russian tradition for centuries. Einstein wrote about it and several universities have researched the performance of iceman Wim Hof.
The effects of red light have been investigated by NASA, among others, as a means of keeping astronauts healthy. Lech: "What I do is on the edge of pseudoscience. I was appointed to insult common sense."
Netflix
Whether the Netflix series will come is still unclear. A producer who works for Netflix is ​​interested in Lech's work, but due to corona, plans are on hold for the time being. Lech is still looking for participants for his pilot studies.
Would you like to participate in research into the health effects of cold and red light? Register via: james.lech@vu.nl